Campus Update for Tuesday, October 24
Good afternoon! Lower School is having a Conference Day today and Middle and Upper School students are in session. Middle and Upper School parents, scroll down to book appointments to meet with your student's teachers on Friday, November 3. Meanwhile, here are this week's news and announcements from St. Johns Country Day School:
College Acceptance Announcements
On Friday, St. Johns' College Counseling Office was honored to announce the first college acceptances for the Class of 2024. We know so much hard work has gone into each and every college application over many years. St. Johns is proud to celebrate this work and to celebrate each college acceptance. Hearty congratulations to:
Sofia Avila - West Virginia Wesleyan College
Harry Brown - Colorado State University, Kennesaw State University
Jack Gosselin - Georgia Southern University
AJ Hawk - Florida Atlantic University, University of Central Florida
Kate Jacobs - Auburn University
Mary Kate Kent - Newberry College
Roxy Mathews - Columbus State University
Richard Nichols - Auburn University, University of Mississippi
Ben Payton - Piedmont University, Florida Southern College
Congratulations, Seniors! 🎉
---
Mr. St. Johns 2023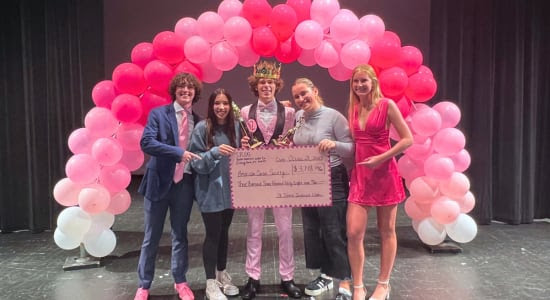 On Saturday night, St. Johns' Interact Club hosted a fabulous Barbie-themed Mr. St. Johns Competition. It was a great night full of pink and fun, all raising money for a great cause—the American Cancer Society. The Top 5 contestants were:
5️⃣: Drake DuBois '26
4️⃣: Sergio Lopez-Diaz '26
3️⃣: Gibby Gilliand '25
2️⃣: Jack Ensell '24

🏆 And our first place winner, Mr. St. Johns 2023 Richard Nichols '24! Gibby was voted Mr. Congeniality by his fellow contestants, and Richard won People's Choice by raising over $300 in his voting box. Hearty thanks to Mr. St. Johns Chairpersons Ava Morin '24 and Jane Garrison '25 for making it all happen and to Faculty Sponsors Mrs. Velasco and Coach Shim. Everyone did an amazing job, and thanks to everyone who came to the show for your support.
---
Spartan Athlete of the Week
Congratulations to last week's Nichols & Pina Spartan Athlete of the Week, swimmer Isabela Rudy '24! Izzy heads into Regionals in the 200 Medley, 100 Fly, and 200 Free. Congratulations, Izzy!
---
Out & About
Lower School students have been enjoying a variety of field trips over the past week. First, Grade 3 went on a tour of Jacksonville, from touring a Springfield fire station to meeting Mayor Donna Deegan, and just about everything in between. Then, Grade 1 went to FSCJ to see "Numbers Don't Lie," a math musical, and then played in Clarke House Park. Fun times!
---
Yearbook Tribute Ads Deadline Tomorrow
This is your last day to honor a student, club group, or special senior with a Chalice yearbook tribute ad. The final deadline to reserve your space is tomorrow, October 25, 2023. See this information sheet for the answers to many frequently asked questions, and click here to reserve your tribute space today! Please remember that yearbook advisors/staff cannot edit finalized tribute ads, so be sure to carefully review your creation before submitting it.
---
Spartan Fest Friday!
Get ready, Spartans! The all-school Spartan Fest is this Friday, October 27, from 3:30-6:00 p.m. in the Heinrich Way (carpool) loop at the front of campus. We hope you can join us for carnival games, inflatables, face painting, treats, and more for the entire family!
Things to know about Spartan Fest:
The entire family is invited!
Any student who attends will receive a voucher for a free ice cream from the Treats on Wheels Ice Cream food truck starting at 5:00 p.m. Be sure to visit the welcome table under the St. Johns tent near the library to get yours.
Food will be available for purchase from local food trucks, so be sure to bring cash or card and come hungry.
As this is an all-school family event, no direct student supervision will be provided.
Afterwards, plan to come cheer on our Spartans at the Homecoming soccer games at 6:00 p.m. and don't miss the halftime crowning of the 2023 Homecoming Queen! We can't wait to see you there!
---
Spartan Wrestling
Interested in Spartan Wrestling? Join us for an interest meeting on Wednesday, November 1, at 6:00 p.m. in the Pace Lecture Hall. The team is open to Middle and Upper School students and practice will start after school on Monday, November 6. Please fill out this interest form, and join the Wrestling Google Classroom with code ila7yga. Questions? Contact Coach Hill at hhill@sjcds.net or (904) 545-6006.
---
New Spirit Store Hours
Effective this week, the Spirit Store has new hours. These are M-F from 8am-1pm. Also, come spend time on campus and volunteer in the Spirit Store! Please email Sherry Burnside if you're interested or with any questions.
---
Schedule Parent Conferences
Lower School Conference Day is today and Middle and Upper School Conferences will take place on Friday, November 3, 2023. Registration is open now in your Veracross Parent Portal. Please note that on November 3, Lower School students will be in session and Middle & Upper School will be off.
---
Order Your HoCo Shirt Today!
Speaking of Homecoming, don't miss out on the opportunity to buy a limited edition Homecoming t-shirt! We only ordered 125 of these, so order fast to get yours. Shirts are $15 each, come in adult sizes XS through XXL and are available for purchase by Venmo @SJCDS or at sjcds.net/give. Just note your name and shirt size. Students can pick up their shirts with Mrs. Berrang at Reception; Parents, we'll touch base to coordinate with you. Questions? Reach out to Ryan Trevett. And thanks to Karley Costlow '24 for the great modeling job above!
---
PETER AND THE STARCATCHER
We can't wait to see you at St. Johns' upcoming production of PETER AND THE STARCATCHER. This heartwarming, hilarious, family-friendly tale is a prequel to Peter Pan and tells the story of how a lonely orphan became The Boy Who Wouldn't Grow Up. Get your tickets today at sjcds.net/starcatcher.
---
Register for Grandparents Day
Mark your calendars and save the date for this year's Lower School Grandparents Day, coming March 8, 2024! Be sure to register your student's grandparent or "grandfriend" to receive an invitation to this wonderful St. Johns event. To register, just log into your Veracross Parent Portal at sjcds.net/veracross. Click on the "Update Household Profile" button at the top of the page, and then scroll down to "Grandparents" and add grandparent or grand friend households. We'll send them a hard copy invitation early next year!
---
College Admissions Visits
Check out the schedule of visiting college admissions representatives below for upcoming visits. Upper School students, seize these opportunities to learn more about these schools, check out the full schedule in SCOIR, and register there for visits with schools you're interested in. Please note, the schedule changes frequently, so keep an eye on SCOIR for last minute adjustments or additions, and stop by College Counseling with any questions. (Photo: Maddie Moody '21)
---
Contact Us!
St. Johns staff stand ready to assist with anything you might need. Please to reach out any time to:


We hope you have a great week!