Campus Update for Tuesday, November 14, 2023
Good afternoon! Here are this week's news and announcements from St. Johns Country Day School:
Thanksgiving Feast Tomorrow
Just a reminder that tomorrow, Wednesday, November 15, Spartan students and staff will enjoy St. Johns' traditional festive Thanksgiving Feast. Our usual lunch provider, SLA, will be closed. The Feast will be provided to all students, so no need to pack a lunch!
---
National Signing Day
National Signing Day was last Wednesday and nine seniors signed letters of intent to play sports at the college level. These included:
Baseball
Girls Soccer
Seth Alford
Sofia Avila
Trevor Bradley
Roxy Mathews
Kody Daneault
Softball
Jack Ensell
Jules Raimondi
George Gilson
Girls Basketball
Mary Kate Kent

You can read more about it and view photos from the Signing Ceremony at sjcds.net/news.
Congratulations, seniors!
---
Grade 6 Goes Beyond King Tut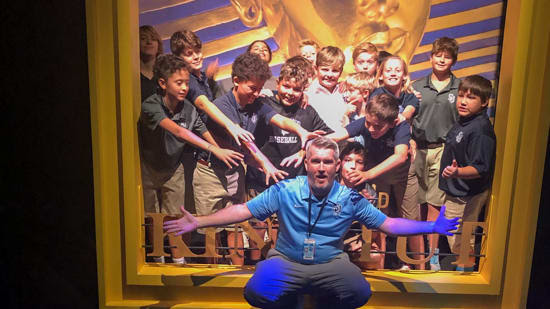 Last week, Grade 6 went on a field trip to the Beyond King Tut exhibit in downtown Jacksonville. There, they entered into the virtual tomb of the famous young pharaoh to learn more about him, mummification, and the Egyptian belief in the afterlife. It was a great chance for them to connect with the concepts from their recent unit on Ancient Egypt and make new discoveries about this great civilization.
---
Heroes Day
Our smallest Spartans experienced a Heroes Day last week, when members of the Clay County Sheriff's Office and Fire Department came to visit. They learned all about these local heroes and what they do, their equipment, and not to be afraid of firefighters if they should have to come to help at their house. (No matter how scary those suits might look!)
---
Is Your Hand In?
We are so grateful for the support of 100% of the Board and faculty/staff toward the St. Johns Fund, meaning that every single member of the Board and our faculty/staff has made a donation to the St. Johns Fund this year. Can we count you in, too? Your support signals the strength of our community to outside donors and mitigates the cost of tuition, helping St. Johns remain affordable. Please support the St. Johns Fund today with your tax-deductible pledge or one-time gift via sjcds.net/give or by Venmo @sjcds. And, as always, thank you for your support!
---
Spartan Athlete of the Week: Roxy Mathews '24
Congratulations to this week's Nichols & Pina Spartan Athlete of The Week, Roxy Mathews '24! Roxy is the goalie on the Girls Varsity Soccer team and has had great start to the season for the Spartans against the defending 5A and 6A State Champions. Congratulations Roxy!
---
Coach of the Month: Mindy Herrick
Congratulations to St. Johns' Coach of the Month Mindy Herrick! Check out Director of Athletics John Sgromolo's interview with Coach Mindy right here.
---
Food Drive Competition
This is our last week to drive out hunger in the first annual Battle of the Schools food collection competition between St. Johns Country Day School and Grace Episcopal Day School! We are still collecting until this Friday, November 17, so please send in your donations. Click here for a list of most-needed items.
---
St. Johns Night at the Icemen!
Join us for St. Johns Night at the Jacksonville Icemen! It'll be a fun night of hockey for all featuring St. Johns Country Day School and the Academy Chorus! Get your tickets today at jaxicemen.com/sjcd23.
---
Tree Lighting Family Event
Please join us for our annual Tree Lighting Family Event featuring the lighting of the St. Johns tree, seasonal crafts, hot chocolate, and music from the Upper School Band. Don't miss the Winter Band Concert starting at 6:30 p.m. We can't wait to see you there!
---
Contact Us!
St. Johns staff stand ready to assist with anything you might need. Please to reach out any time to:


We hope you have a great week!